Hotels At Kanha National Park
Baghvillas Luxury Tented Camps in Kanha
Baghvillas has luxury tented camps situated near Mukki Gate in Kanha National Park. Baghvillas Jungle Resort has twelve shikar tents, these shikar tents are decorated with traditional tent designs used by Maharaja's on ancient days for hunting. Baghvillas offers jungle drives, Yoga Mediation and Spa Treatments.
Baghvillas organizes specially designed and safest safari vehicles for enjoying the ride at Kanha National Park. During the safari, experienced naturalist will travel with you and provide information about the park. Baghvillas organizes two safaris every day, one at morning after sunrise and another safari at evening before sunset.
Baghvillas Tariff Details

Double Occupancy Tent: Rs. 18,000 per night
Single Occupancy Tent: Rs. 15,000 per night
Jungle Safari: Rs. 3000 per person per trip
Pick up and drop from the following airports / Rail Stations: Nagpur, Raipur, Jabalpur: Rs. 10,000
Baghvillas Contact Details
Email: info@baghvillas.com
Website: http://www.baghvillas.com/
KIPLING CAMP
Kipling Camp was set up by two conservationists, Bob and Anne Wright at Kanha Tiger Reserve. The beauty and diversity of Kanha led the Wright couple to build a remote jungle resort, way back in 1989. Since than, Kipling, which was the first permanent camp in Kanha National Park has hosted wildlife enthusiasts from across the globe, including many well- known personalities.
In the buffer zone of Kanha National Park, close to the entrance at Khatia, is Kipling Camp. With its unique location and inspiring setting, the Kipling camp is the perfect place to get acquainted with India's rich and diverse flora and fauna. Ecologically friendly cottages scattered among saja and mohwa trees and a small lake, not only offer a comfortable and relaxing accommodation, but also help you feel the pulse of this land of the tiger. The Kipling Camp at Kanha merges unobtrusively into the surroundings. Some of Kipling's magical visitors include leopards, jackals and wolves that pad through the camp fearlessly. Chital and langurs also frequent this magical Jungle lodge to drink at the lake.
A typical day at Kipling Camp starts at dawn, when you'll be taken in open four-wheel drives to see and photograph wildlife at Kanha Tiger Reserve. The guides and Kipling Camp's naturalists and drivers, are extremely skilled at reading nature's signals, maximizing the chances of good sightings. A campfire at night, listening to the songs of the jungle and sharing tales of adventure, will provide the perfect finish to the end to an exciting day.
Contact:
Email: info@kiplingcamp.com
Peepal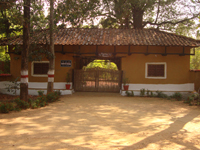 Specifically designed to provide a base for tourists visiting Kanha, the tigers and other wild life, Peepal is owned and run by local people who want to preserve and enhance the local wildlife experience. This purpose built tourist lodge was completed in 2009. The Peepal Tree is known all over India as a refuge for birds, animals and humanity from the torrid heat of hot summers days. That oasis of calm and tranquility is exactly what travelers will find as they enter the traditional Gond gateway to this optically pleasing and quite enchanting property.
Peepal Resort is a delightfully refreshing amalgamation of Madhya Pradesh's old world charm of architecture and modern day requirements of a discerning wildlife visitor.
It is a place that has respect for the land it sits upon, and for the tribal people who have maintained and conserved these vast, green environs for centuries.
The resort is located 8 kms west of the Mukki Gate to Kanha National Park, and nestles in a quiet forested area of the park's buffer zone. With only 9 cottages, Peepal Resort prides itself in offering a welcoming, personalised ambience to wildlife enthusiasts and those searching for a haven from today's rushed and competitive world.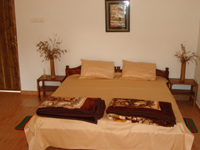 The style of accommodation being offered is reminiscent of the bygone era of the veranda fronted Dak bungalow. These consist of 4 air-conditioned and 5 air-cooled cottages, all of which are more than comfortably furnished, and set in 4 acres of refreshingly charming, yet well-established jungle. The spacious, partially enclosed lounge-cum-dining area is centrally located, and is a great vantage point from where Langur monkeys and other occasional visiting wildlife can be observed within the confines of the resort. A side staircase leads to an intimate roof terrace, from where a visitor can be closer to bird life in the day, or the blanket of stars at night.
Room Tarrif Of Peepal Resort

1. Suite Room-@ 4500(Air Conditioner)Double Occupancy
2. Suite Room-@ 3500(Air Cooled)Double Occupancy With Food Include+Extra Bed(1000)+Special Package For School College Student.

We Have Experience Staff And Give A Good Facillity Of Guest.

Mobile No:
093O1074089(Resort)
09098132964
09098187181

E Mail Id: peepalresort@gmail.com